Customized to fit your needs
Customize cab position, wheelbase, mast height,and more to fit your marina's exact specifications. View Available Options >
Marine Forklifts Overview
Marine Travelift Hydro M_Drive marine forklifts are designed and engineered around decades of operator input and feedback. All of our forklifts include our exclusive hydrostatic drive system, which means you can be confident that your marina is getting the most precise and productive forklift on the market at the lowest total cost of ownership.
M1500H
15,000 lbs. / 7,000 kg
Wheelbase options: 105"
M2000H
20,000 lbs. / 9,000 kg
Wheelbase options: 129", 105"
M2300H
23,000 lbs. / 10,400 kg
Wheelbase options: 140", 129", 105"
M2600H
26,300 lbs. / 11,900 kg
Wheelbase options: 140", 129"
M2800H
27,000 lbs. / 12,200 kg
Wheelbase options: 160", 129"
M3600H
36,000 lbs. / 16,300 kg
Wheelbase options: 160", 140"
M4200H
42,000 lbs. / 19,000 kg
Wheelbase options: 140", 129"
M5200H
52,000 lbs. / 23,500 kg
Wheelbase options: 160"
Various Mast Heights
Built around your existing facility & infrastructure.
Ask us for more details!
Forklift Weight Capacity
15,000 lbs. – 52,000 lbs. and larger | 7,000 kg – 23,500 kg and larger
Details
Hydro M_Drive marine forklifts are built to lift and launch vessels from 15 ft. (4.6 m) – 50 ft. (15.2 m) in length.
Whether you are a boat builder looking for a marine forklift you can trust to safely transport your vessels, or a drystack marina looking for added efficiency – our forklifts are proven to have the best productivity in high duty cycle environments.
From powerboats to fishing vessels to pontoons – and everything in between – our forklifts lift a wide variety of boats with the durability and reliability you expect from Marine Travelift.
Cab Positions
Side cab or center cab? With Marine Travelift – you pick, based on your preference. Either way, you'll be getting a marine forklift that is designed and engineered to give operators the clearest views around.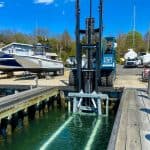 With Marine Travelift's forward-mounted side cabs, your operator will have maximum visibility throughout the launching or stacking process – the best in the industry. Our unique optimal visibility is achieved by positioning the forklift driver further forward over the front tire.
---
Marine Forklifts Features
Hydrostatic Drive System
The hydrostatic drive system allows the operator to maintain precise speed and control in forward and reverse while being hands-free for steering, hydraulic lift controls, and other pilot operations. This system has fewer moving parts than your traditional transmission setup, therefore less maintenance is required, and downtime is considerably reduced.
Service Brake Pedal
We know the importance of safety in all yards and marinas – so, all Hydro M_Drive forklifts come standard with a service break pedal as an additional safety feature. When the travel direction pedal is released, the forklift will automatically stop. The service brake is there for use with the parking brake or quicker stopping operation if needed.
Remote Diagnostics
Our remote diagnostics gives you access to free machine support around the globe. Experienced factory technicians are able to perform the diagnosis, identify a faulty part, and/or modify program parameters -- without having to make a trip to your site.
Intelligent Touch Screen Display
The LCD displays various engine parameters along with load indicators, real-time measurements of the machine's operations, performance, troubleshooting, and any error that may arise. This large color screen is located in the cab and is designed to withstand any environmental conditions.
Remote Grease Lines
There are various grease points on the forklift that are either higher up on the machine or underneath it. Each one of these points has a grease conduit that runs to ground level and is easily accessible for quick and efficient maintenance.
Armor Coat Chain
The first 4' of the mast / carriage chain comes standard with armor coating. This provides superior corrosion resistance in the main areas that get sprayed and soaked with water on every lift, resulting in longer component life.
Sound Suppression
As more and more facilities are operating in residential areas there is a need for equipment to be as quiet as possible. All Hydro M_Drive forklifts come standard with noise dampening material on the inside of the engine compartment, greatly reducing noise level.
Enhanced Corrosion Protection
Tough work environments can be tough on your equipment. Our Hydro M_Drive marine forklifts are built with stainless tubing and fittings to extend the life of your lift.
Fork Swing Cylinders
We understand that longevity and functionality are necessary for your workloads. That's why our marine forklifts come standard with stainless steel fork swing cylinders offering improved control, positioning, and versatility.
PPG Siloxane Paint
Increased life and reduced corrosion are the result of this 2-step PPG Paint process. A zinc-enriched epoxy primer and polysiloxane topcoat provide superior performance that is proven in the most difficult marine environments.
Request a Spec
See the Marine Forklifts in Action
Countless Years of Tradition. Constant Innovation.
With over sixty years of experience in the industry, everyone on the Marine Travelift team takes pride in building the equipment you trust. From our in-house engineers to our expert customer care technicians, we work with you to build the exact machine you need, and provide the service you expect — to keep your business running.
Related Industrial Boat Handling Equipment
The industry's most innovative & trusted boat lifts. With lifting capacities from 15-100 metric tons, Marine Travelift's BFMII boat hoists are customizable to meet your exact lifting needs.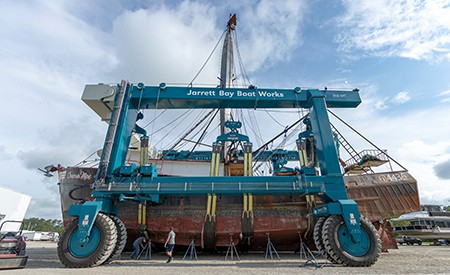 The C-Series from Marine Travelift is available for the larger lifting needs your shipyard demands, with capacities from 150-1,500 metric tons. These are the ideal lifting solution for everything from cargo ships, to tugs, to superyachts and beyond. 
The perfect boat handling and storage addition for your yard. Marine Travelift transporters are self-propelled and designed to be used with our mobile boat hoists to maximize space in your yard and buildings.