Customized to fit your needs
Customize widths, heights, and more to fit your marina's exact specifications. View Available Options >
25-100 Ton Boat Hoists Overview
Whether you are lifting sailboats, yachts, or every type of boat in between – Marine Travelift boat hoists are the most trusted in the industry.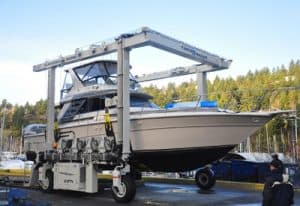 25 ton boat hoist
55,000 lbs. / 25,000 kg
35 ton boat hoist
77,000 lbs. / 35,000 kg
50 ton boat hoist
110,000 lbs. / 50,000 kg
75 ton boat hoist
165,000 lbs. / 75,000 kg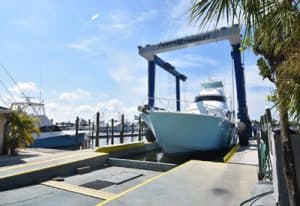 85 ton boat hoist
187,000 lbs. / 85,000 kg
100 ton boat hoist
220,000 lbs. / 100,000 kg
Boat Hoist Weight Capacity
25 metric tons – 100 metric tons | 55,000 lbs. – 220,000 lbs. | 25,000 kg – 100,000 kg
Details
BFMII boat hoists are capable of hauling vessels approximately 25 ft. (7.6 m) - 100 ft. (30 m) in length.
Designed to lift a variety of vessels including: sailboats, powerboats, police and Coast Guard patrol vessels, catamarans, commercial fishing boats, and more.
The ideal lifting solution for yacht clubs, saltwater and freshwater marinas, sailboat clubs, and more.
---
25-100 Ton Boat Hoists Features
Remote Diagnostics
Our remote diagnostics allow free support around the globe. Experienced factory technicians are able to perform the diagnosis, identify a faulty part and/or modify program parameters without having to make a trip to your site.
Sling Adjust
The BFMII models feature standard powered sling adjust to maximize capacity and optimize the diversity of vessels you can lift. The operator has full control of this function and can adjust each sling's position to improve load balance or to avoid stabilizers and other sensitive elements on the hull.
Formed Steel Structure
Reduces fatigue and extends the life of your machine with a beam-formed structure. Rounded edges don't allow stress to concentrate in the corners providing a more durable structure for more heavy-duty work.
PPG Siloxane Paint
Increase life and reduce corrosion with this 2-step PPG Paint process. A zinc-enriched epoxy primer and polysiloxane topcoat provide superior performance proven in the most difficult marine environments.
Intelligent Readout System
The intelligent readout provides multiple outputs including general engine performance, real-time measurements of machine operations, oil level/temperature and pump pressures. It also allows for performance troubleshooting and complete systematic control.
Industrial Tires
Our industrial tires provide the highest level of durability with an abrasion-resistant additive to withstand different style terrain.
Greaseless Pivot Trunnion
The pivot trunnion allows the machine to articulate over uneven ground without adding stress to the structure. The use of a greaseless, wear-resistant bushing means less maintenance and eliminates the chance of grease falling on a boat.
Operator Cab
Operator cabs are standard on all Marine Travel BFMII boat hoists. The controls are direct to valve and hydraulically control all functions as well as act as a backup to the radio remote option.
Chine & Keel Pads
Built to protect, sustain and withstand various temperatures and climates, further extending the life of your slings. Made with thick reinforced rubber or vinyl to protect the sling from sharp edges and the additional weight helps to sink the slings and keep them from rolling when a boat floats in.
Hydraulic Fluid Leak Protection
Stainless steel tubing, O-Ring face seal hydraulic fittings, and cordura hose covers are all used for added protection against hydraulic leaks to keep fluid off boats and out of the water. Our 2205 stainless tubing resists corrosion in the harshest marine environments and cordura hose coverings prevent the elements from prematurely deteriorating the hoses.
Request a Spec
See the 25-100 Ton Boat Hoists in Action
Countless Years of Tradition. Constant Innovation.
With over sixty years of experience in the industry, everyone on the Marine Travelift team takes pride in building the equipment you trust. From our in-house engineers to our expert customer care technicians, we work with you to build the exact machine you need, and provide the service you expect — to keep your business running.
Related Industrial Boat Handling Equipment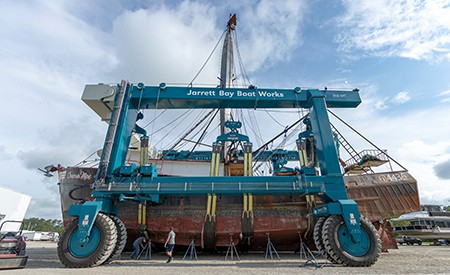 The C-Series from Marine Travelift is available for the larger lifting needs your shipyard demands, with capacities from 150-1,500 metric tons. These are the ideal lifting solution for everything from cargo ships, to tugs, to superyachts and beyond. 
Our Hydro M_Drive forklifts are available in a variety of capacities, wheelbases, and mast heights to work within your existing drystack facility. Choose from side or center cab configurations and innovative options to maximize operator comfort and improve marina efficiency.
The perfect boat handling and storage addition for your yard. Marine Travelift transporters are self-propelled and designed to be used with our mobile boat hoists to maximize space in your yard and buildings.