Hydraulic Boat Transporters
Customized to fit your needs
Customize widths, configurations, and more to fit your yard's exact specifications. Learn More >
Hydraulic Transporters Overview
Marine Travelift self-propelled transporters are ideally suited to team up with our mobile boat hoists. Working with the two machines in conjunction allows you to move a greater number of boats, in the same amount of time!
20 Ton Transporter
44,100 lbs. / 20,000 kg
40 Ton Transporter
88,200 lbs. / 40,000 kg
60 Ton Transporter
132,220 lbs. / 60,000 kg
80 Ton Transporter
176,000 lbs./ 80,000 kg
100 Ton Transporter
220,000 lbs./ 100,000 kg
Custom Capacitates
Build To Meet Your Yard's Demands
Hydraulic Transporters Weight Capacity
20 metric tons – 100 metric tons and larger | 330,000 lbs. – 3,300,000 lbs. | 150,000 kg – 1,500,000 kg
Details
Our self-propelled transporters are capable of hauling vessels approximately 25 ft. (8 m) to 110 ft. (33 m) and larger in length.
With their open-end design, Marine Travelift transporter trailers are the ideal solution for significantly increasing boat storage throughout your yard.
* Note: These are not designed for use in water
---
Transporter Applications
Powerboats - Large
Our transporters are suitable for moving large powerboats approx. 35 ft. – 110 ft. (10 m – 33 m) long. They range in capacities from 60-100 metric tons depending on your powerboat transportation needs.
Powerboats - Small
If you are looking to move powerboats approx. 25 ft. – 60 ft. (8 m – 18 m) long, our TM20 and TM40 transporters are fully customizable to meet this need.
Sailboats - Large
Marine Travelift transporters are designed to move sailboats approx. 35 ft. – 110 ft. (10 m – 33 m) long. They range in capacities from 60-100 metric tons and can be configured with a variety of arm/pad options to meet your demands.
Sailboats - Small
If you are primarily working with sailboats approx. 25 ft. – 60 ft. (8 m – 18 m) long, we have the self-propelled transporters with capacities from 20-40 metric tons to help you store and move them with ease.
Yachts - Large
If you are moving yachts approx. 70 ft. – 150 ft. & longer, we have the remote-controlled transporter you need to effortlessly carry and store superyachts throughout your marina.
Yachts - Small
When routinely transporting yachts approx. 25 ft. – 60 ft. (8 m – 18 m) long, our TM20 and TM40 transporters are the ideal hauling solution – especially when used with a 25 – 75 BFMII boat hoist.
Catamarans - Large
Despite the unique multi-hull design of catamarans, self-propelled transporters can be designed with the right configuration to safely and securely move large catamarans throughout your yard.
Catamarans - Small
Marine Travelift TM20 and TM40 transporters can easily move catamarans ranging in length from 25 ft. – 60 ft. (8 m – 18 m).
Workboats
No matter the type of workboat, Marine Travelift transporters can be configured to easily maneuver your vessels. They can move workboats 50 ft. – 150 ft. (15 m – 45 m) in length with capacities from 60-200 metric tons.
Government
Coast guard, police, army, navy, and other government vessels – no matter the hull configuration or capacity, we can help you select the right transporter configuration to move these vessels.
Request a Spec
Countless Years of Tradition. Constant Innovation.
With over sixty years of experience in the industry, everyone on the Marine Travelift team takes pride in building the equipment you trust. From our in-house engineers to our expert customer care technicians, we work with you to build the exact machine you need, and provide the service you expect — to keep your business running.
Related Industrial Boat Handling Equipment
The industry's most innovative & trusted boat lifts. With lifting capacities from 15-100 metric tons, Marine Travelift's BFMII boat hoists are customizable to meet your exact lifting needs.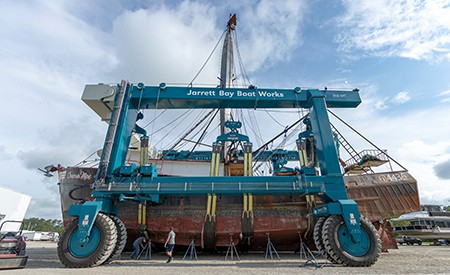 The C-Series from Marine Travelift is available for the larger lifting needs your shipyard demands, with capacities from 150-1,500 metric tons. These are the ideal lifting solution for everything from cargo ships, to tugs, to superyachts and beyond. 
Our Hydro M_Drive forklifts are available in a variety of capacities, wheelbases, and mast heights to work within your existing drystack facility. Choose from side or center cab configurations and innovative options to maximize operator comfort and improve marina efficiency.